Flooring :
Epoxy lantai- Polyurethane floorin (PU lantai) - Floor Hardener - Epoxy Antistatic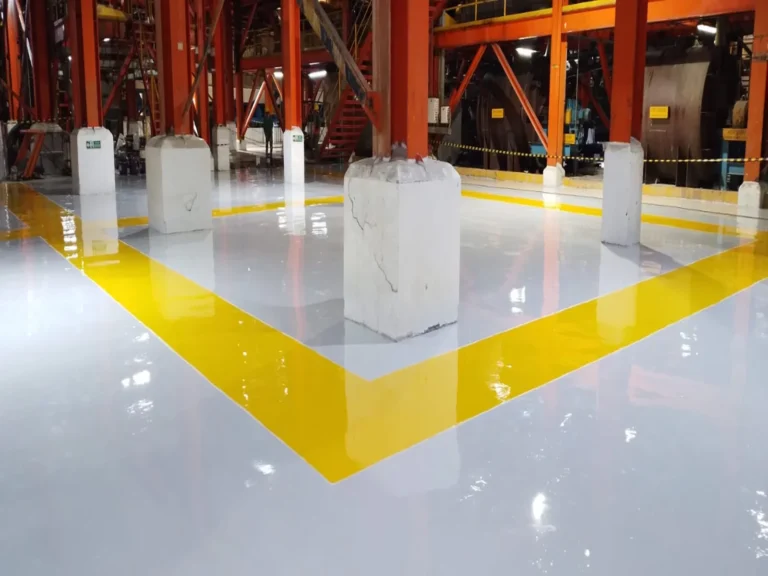 * Industrial Floor Epoxy:

Floor coating systems for industrial facilities.

* Decorative Floor Coating:

Decorative, seamless resin floor systems offer endless possibilities for creative flooring design. With almost unlimited color options which can be combined with decorative aggregates, graphics, brand imagery, logos applied in different application methods.

* Car Park & Traffic Epoxy:

Floor Epoxy systems for parking garages have to meet the highest demands as outdoor, multi-story and underground car parks are subject to many different stresses, including atmospheric conditions, de-icing salt effects, automotive fluids as well as vehicular and pedestrian traffic load.

* Polyurethane "Food & Beverage Factory Flooring:

Food and beverage factories or food-related processing plants include a vast array of project types.along with A dairy or beverage plant, A catering or industrial kitchen, A slaughterhouse or fish packing facility, A bakery, A fruit and vegetable processing plant, A snack production facility. Freezers, bottling lines, raw material processing, packaging and storage areas too.These are a few examples of businesses and areas that exist in the food processing industry. indeed each of them has its own specific requirements for flooring, walls, and other surfaces whether for new construction or renovation.


* Concrete Flooring:

Concrete floors are used as the base slab for most commercial and industrial floor finishes.
They are characterized by high quality, durability and versatility relative to cost. Since concrete flooring is able to withstand pressure from heavy equipment, As well as trucks or forklifts, it's frequently used in warehouses, factories and production facilities.


* Sports Flooring:

In addition Multi-purpose sports floor systems should provide comfort and safety for training and competition combined, with different levels of resistance to mechanical loads. In sports facilities, schools, universities, ballet academies, tennis and fitness centers.


* Anti-Static Epoxy:

Clearly antistatic flooring product range that has been proven to help prevent harmful electrical charge, that builds up from destroying sensitive components, by dissipating the charge safely to ground.

* Leveling & Screed:

A well-finished, long-lasting floor looks beautiful and feels smooth and even not only because of the floor coat on top, but also the sub-floor preparation and layers underneath. A successfully designed and installed floor takes into account the existing substrate material and conditions, whether it is rough and unfinished, has some dips and waves or slopes unevenly.